Steve Jobs has died, here is how I introduced the video for Steve Jobs 2005 Stanford University Commencement speech in a post over 2 years ago:
Steve Job's passion helped launch Apple Computer into it's premier spot in the PC industry in the late 70′s early 80′s.  His firing from Apple saw the company fall from it's great heights – it's soul having been removed.  His return to Apple saw it's fortunes change and today it has again risen to a place of technological leadership.
The speech comes highly recommended and you can see it here: Steve Jobs Commencement.  In the speech he talks about the diagnosis of the illness which has now killed him (pancreatic cancer) and how it caused him to change his life.  There is much great wisdom here.
Jobs died yesterday and has left a technological void in the world.   Steve Jobs was not just the technological soul of Apple but of our generation.   As we think about Steve Jobs death we should consider what innovations died with him.  RIP Steve Jobs.
Wired magazine produced a tribute video to Jobs:

CNN has a great piece about Jobs and his ability to inspire:
Dozens of video-capable smartphones — most of them Steve Jobs' own creations — peered out over the sea of technology journalists like digital periscopes.Nothing particularly video-worthy was going on in that moment: It was January 2010, and a bunch of us tech writers, wearing plaid and skinny jeans and funny hats, were waiting in line outside the Yerba Buena Center in San Francisco for an Apple news conference.
But a line outside a news conference where Steve Jobs will appear is no normal line. It's the kind of thing you might just want to record every second of. And so, when our media handlers, wearing bright T-shirts with the simple Apple logo, let us into the building where Jobs would unveil his company's "magical" iPad, pretty much everyone in the audience raised his or her iPhone in unison and clicked "record."
I'm sure our collective scramble down a hall toward a dimly lit auditorium was recorded and uploaded dozens of times.
Apple's revolutionary co-founder, who died Wednesday at the age of 56, had that kind of power over people — even the ostensibly objective technology press corps, which breathlessly hangs on Apple's announcements as if their gadgets have the power to change the world.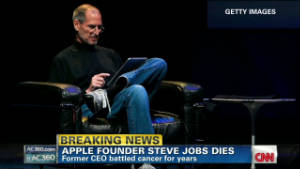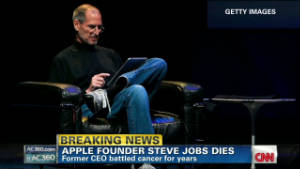 Steve Jobs was 'out of place and time'
Which, if we're being honest, they do.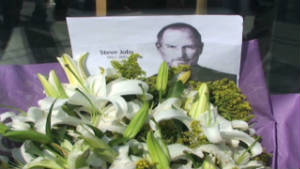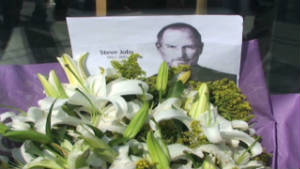 China remembers 'Master Jobs'
"The world has lost a visionary," President Barack Obama said in a statement posted Wednesday night on the White House blog. "And there may be no greater tribute to Steve's success than the fact that much of the world learned of his passing on a device he invented."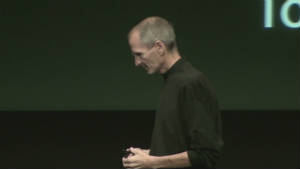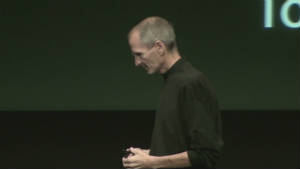 Steve Jobs leaves lasting legacy
"So much talk on Twitter of Steve Jobs, but Twitter HQ has been eerily quiet the past few hours save the clicking of keyboards he tailored," Twitter designer Mark Trammell posted on his popular Twitter feed. All around the world, it seems, people used the technology Jobs created to remark on his impact and his passing — a testament to the personal impact Apple's suite of iProducts has on many of our lives.
Regardless of your technological tack — whether you're addicted to that red light that blinks on top of the BlackBerry or swear your allegiance to the Android overlords — it's hard to deny the industry-changing power of Jobs and the Apple brand. Before the iPhone, an app-running, touch-screen device didn't exist. It was the first true smartphone, just as the iPad was the first true tablet computer. But way before that, back in a California garage in the 1970s, Steve Jobs and Steve Wozniak essentially kick-started the personal computer revolution. In part, I owe the fact that I'm able to type this story and send it to you over the Internet to the vision of Jobs and Wozniak.
If the technological history explains part of the hype that surrounds every press conference Jobs presided over, his personal life tells more of the story.
As always, we'd love to hear your thoughts and comments below and hit the like button to share the love.